Hire KVA for Expert Shower & Tub Maintenance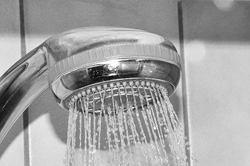 If you're trying to find an expert plumbing company to handle shower and tub maintenance services at your residence, trust KVA as one of the finest quality businesses in Los Angeles. KVA's skilled and pleasant techs take all the stress and guesswork out of reading reviews, browsing websites, calling phone numbers, or asking for references. We get the job done right, every time.
The typical image most often associated with plumbers is in the bathroom, bent over a toilet, with a slowly sliding pair of pants. While this hilarious picture might be normal for some, KVA tends to wear coveralls and belts, and we do far more than unclog toilets. Much of our business comes from fixing shower and bathtubs, which often require as much attention as toilets.
Why Do Showers and Tubs Create Such a Hassle?
From a young age you learn the lesson about what not to flush down the toilet (as any boy who has tried to drown his sister's doll can tell you) but you don't often realize the gradual damage to your other bathroom appliances. Shaving leaves wads of hair that can stick to the inside of pipes and accumulate over time, causing massive clogs that require chemical cleaners or hydrojetting.
Additionally, minor leaks, poorly installed pipes, cracks, and other seemingly small issues have massively negative consequences, including higher utilities bills, wasted water, and a necessity to completely strip out the piping and replace it. KVA can offer preventative services so extreme measures can be avoided.
Call us today to get your bathroom working to your expectations! We also do shower and tub installations for those upgrading their appliances or remodeling their homes.
Not Your Average Los Angeles Plumbing Company!
KVA provides top quality workers to residences and companies throughout Los Angeles. Our plumbers have a reputation for being fast, dependable, and throughly qualified. Our fabulous technicians are always there to get the job done right at fair prices. KVA also offers excellent commercial services that will help save your company from expensive fixes later on by taking preventative measures now.