Piping Replacement & Plumbing Services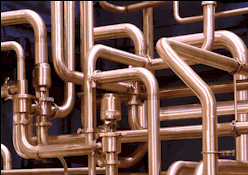 If you are looking for a professional plumbing company to handle re-piping in your home or at your place of business, rely on KVA as one of the top-quality solutions in Los Angeles. Our skilled and friendly experts will tackle your job and ensure it is done properly.
Re-piping oftentimes involves replacement of damaged or worn-out pipes, either outdoors from intrusions like roots or indoors connected to appliances, faucets, and fixtures. Re-piping can also mean replacing an entire system due to home upgrades or remodels. Total water pipe installation is also necessary during construction when new homes, apartments or even commercial and industrial facilities are built.
Most plumbers offer these services, but not all can deliver on their promises. KVA wants to finish the job quickly THE FIRST TIME. We don't want to have to come back to make adjustments to a leaky valve or clear a drain that isn't working properly, and we know that you don't want a bunch of guys in overalls tredging through your house every day. So it is in both of our best interests to get everything screwed in tightly, secured in place, and hooked up to the right systems our first time out. A job well done means that everybody wins.
Residential Tips from KVA Experts
Laundry Room: A lot of people ignore their washer and dryer hose hookups, but you should look at them every so often. When you've got bulging hoses, you need to replace them to maximize energy efficiency.
Kitchens and Bath: Leaking sinks will not always look like they are wasting a lot of water, but they could add up to gallons and gallons monthly! Be sure any leaks are fixed immediately- unless you love plumbing company fees and huge water bills...
Laundry Room: Washer and dryer hookups aren't usually on the front of the brain...updating hoses with bumps or wear could make your laundry room a lot more energy-efficient.
Basements: Most of the people who live in California actually lack basements. Basements originated as a way to keep water pipes from freezing in climates with colder winter, which LA residents are more than happy to skip.
Garbage Disposal: Ensure you aren't confusing your garbage disposal with a garbage can. Inappropriate use is the No. 1 reason for garbage disposal breakdown.
Toilet Humor
A drain cleaning tool with a rubber bladder, hose valve and nozzle is called a "blow bag."