Emergency Plumbing Services in Los Angeles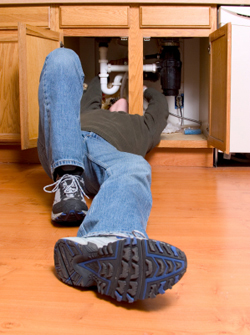 If you need to find Los Angeles area emergency plumbing service, look no further than KVA! We provide speedy emergency plumbing performed by professionally-trained workers.
KVA will quickly dispatch a team to meet at your household or business when an emergency oocurs. These can include burst pipes, septic tanks and sewers with back flow problems, flooding, or just a situation where you need immediate help because you are having guests over.
Emergency plumbing services need to get done right away—if you've got water leaking or a broken pipe, you'll know it. Find your main water shutoff valve (located near your water meter outside) or the shutoff valve near the burst pipe and call KVA right away!
Los Angeles Sewage Flooding
When it rains in LA, the city can't handle it; sewage systems overflow, streets get drowned, and houses get flooded.
KVA offers expert residential services to just about every township within the greater Los Angeles area. We also provide commercial services to assist large buildings or restaurants keep their plumbing expenditures down and reduce the risks of requiring more expensive assitance, like sewer line work, fixture replacement, or re-piping.
Don't flush your cash away on shaky businesses! Call KVA instead to get top-notch quality for any kind of service you need. We deliver the best in commercial and domestic plumbing, equipment installations and emergency services.
Toilet Humor
Faucet openings in your sinks are called "cockholes." Yuk, yuk.