Hire KVA for Sewer Line Replacement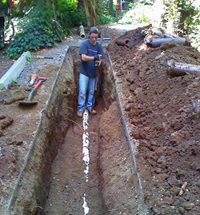 Have you been noticing a foul stench around your office building lately? Is there a gross-looking puddle in the garden outside? Do the toilets seem to be flushing a little slower than normal?
Any of these could be a sign of faulty sewer lines.
KVA offers replacement services for your sewer lines to get them operational. It should go without saying that these are very important aspects of a plumbing system, because otherwise there is no way to remove the waste from your building and properly dispose of it.
Sewer line replacement is a plumbing service which involves either the repair or replacement of sewer lines in any type of building. Restaurants, commercial buildings or industrial plants all have sewer line systems for waste removal and their upkeep is pivotal to maintaining sanitary conditions and avoiding costly additional work in the future. Trust KVA for all of these jobs and any other commercial or industrial plumbing services.
Tips From Plumbers
Washer & Dryer Hookups: It is easy to ignore the hoses to your washer and dryer, but make an effort to take a look at them routinely. Change any bulging hoses to maximize energy efficiency.

Kitchen and Baths: Lower water pressure in the sink? Look at the aerator to start. It's that tiny thing you will find when you loosen the end of your faucet.

Bathroom: Don't use your toilet like a wastebasket! Keep a nice waste receptacle in close proximity so you are less tempted to utilize the john.

Washer & Dryer: Try and limit usage of your washer to when you've got complete loads, or alter your water levels for each load if it is possible. If washing a small load, be sure your water level is adjusted accordingly when possible.

Garbage Disposal: Get in the habit of running warm water through your disposal before and after using it...10 or 15 seconds should be enough.

Laundry Area and Basement: If these areas of your house have appliances like hot water heaters and laundry machines, consider installing a flood alarm. These can help significantly reduce water damage.