General Assistance with all Industrial Equipment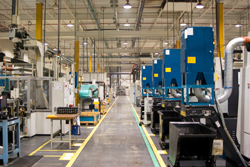 KVA performsindustrial and commercial plumbing services along with residential repairs. We don't just unclog toilets, we also deal with large scqal industrial equipment. If your business is in need of a trustworthy, reliable plumbing company to handle all of your installations and emergency services, contact KVA to see what we can offer.
We can establish bi-yearly inspections to implement preventative measures or simply respond to emergencies, whichever you prefer
Industrial equipment could mean any type of gear in a factory, plant, or large commercial building related to compressed air, water or steam. Call KVA for maintenance, installation, or service for all your commercial repairs.
Los Angeles Industrial Plumbing Provider
KVA offers fantastic commercial and industrial service through the entire Los Angeles area, including Van Nuys, North Hollywood, Flintridge, Culver City, and more. With KVA, our plumbers are always reliable and up to the quality standards of the best Los Angeles area companies. KVA offers quality services that can help save your company costly maintenance later on by taking preventative actions now.

Do not tolerate untrustworthy providers! Call up KVA right now for all of your commercial needs, including simple maintenance, industrial equipment installation, general solutions, & emergency service!