Go Green: Install Hot Water Recirculation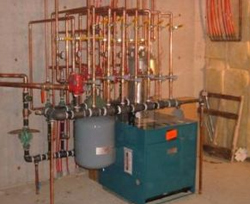 If you need to find plumbers in the Los Angeles area who can handle hot water recirculation, look no further than KVA . We provide installation and maintenance of hot water recirculation systems at prices that won't break the bank. on top of that, getting these systems installed or fixed can reduce your energy bills by saving money. Our top quality and friendly experts will tackle your problem and make sure the job is done right each time.
These systems are eco-friendly and better for the environment because they require the use of less hot water by recycling, rather than importing new. This solution is good for your budget, the environment, and your conscience.

Hot water recirculation systems normally exist in larger commercial buildings or industrial plants. KVA can handle the service, maintenance, repairs or installation of hot water recirculation systems. Call us for all of your industrial or commercial needs.
Go Green Plumbing Tips!
If your water pressure is too high, it's very easy to install a pressure-reducing device at your main water line.
Natural or eco-friendly soaps and detergents are usually much more friendly to your plumbing system.
Really small and affordable timers are available that you can affix to outdoor faucets-great for saving water during activities like watering the backyard.
Don't set your water heater temperature above 120 degrees. You aren't going to desire the excessive heat and may actually be wasting a lot of energy by doing so.
Toilet Humor
The circular plate used to cover faucet openings in your sink is called a cockhole cover.